About the experience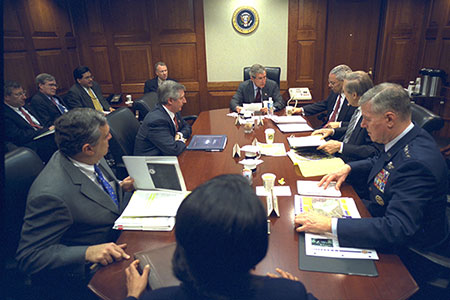 In 2006, President George W. Bush directed the White House Situation Room be renovated and updated. The historic Situation Room was used by nine sitting Presidents including President Ronald Reagan. The existing Situation Room complex was removed and two of the key rooms - the Main Conference Room and the Secure Video Transmission Site - were preserved and reinstalled at the George W. Bush and the Ronald Reagan Presidential Libraries.
These profoundly significant rooms provide an exceptional educational opportunity for students who will form teams to assume the roles of the Executive Office of the President and the President's Cabinet in order to manage a constitutional crisis. Fellow classmates will take on the parts of key news media members scrambling to cover the story as it unfolds before them. Participating students must work together in a high stakes environment to examine a multitude critical sources and make important decisions about developing events.
This award-winning 21st century educational experience is aligned with national and state standards for high school.
Connection to Standards
Standards
The Situation Room Experience is aligned with national standards; California History-Social Science Content Standards, California English-Language Arts Standards and the Texas Essential Knowledge and Skills for high school. You may click additional education resources to access activities, lesson plans, and other digital materials from the National Archives for teaching with primary source documents.
Before Your Simulation
Below are materials you may use to help you and your high school students prepare for the simulation.
Almost all of the materials may be used as stand-alone lessons or in preparation for a Situation Room visit.
After Your Simulation
After the simulation you may login to access analytics for your group. You will be able to see the choices each participant made during the simulation and use this information to foster discussion off-site.
How do you encourage high school students to research more about government?
The National Archives Education Team has prepared a series of projects and analytical questions to help you reinforce the learning experience and promote further interest in the workings of government.
After Action Report

Looking for a great extension activity? This in-class group project will engage your students in an in-depth analysis of their experience in the Situation Room. Continue the discussion about decisions made and group dynamics which evolved throughout the experience.

Essay/Thinking Questions

A formal standards-linked set of questions and extension activities meant to be used as short answer or essay questions to stimulate discussion with links to history and government content.

Post-Visit PowerPoint

This classroom-ready PowerPoint presentation is designed to engage students in the key concepts explored during the Situation Room Experience. In one or two class periods, your students will delve in the 25th amendment and its use throughout history and the importance of the primary source records kept by the National Archives and Records Administration.